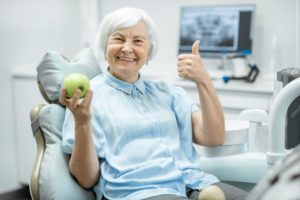 Even though menopause is a perfectly natural part of life, it's common to feel confused or frustrated at the various symptoms it causes, like hot flashes. With a drop in estrogen levels comes a variety of bodily changes, some of which can actually impact your oral health. For example, you might be wondering if it's still possible to replace your lost teeth with dental implants if you've already gone through menopause. Read on to learn the answer!
How Does Menopause Affect Your Eligibility for Dental Implants?
As your hormone levels change during and after menopause, so does your oral health. There are two major ways that menopause can impact dental implant candidacy:
Lowering jawbone density – Estrogen plays a significant role in bone health. So, as the body's level of this hormone decreases, so does the risk of osteoporosis, which makes the bones weaker and more likely to break. This includes the jawbone. If you have osteoporosis, your jawbone might be unable to give dental implants the support they need.
Increasing the risk of gum disease – In addition to hot flashes, dry mouth is a common side effect of menopause. Not only is dry mouth uncomfortable, but it can also make you more likely to develop gum disease. Without adequate saliva to wash food debris off of your teeth, harmful bacteria have an easier time accumulating and causing infection. Gum disease may lead to dental implant failure. Even before then, it may permanently destroy part of the jawbone, rendering it unable to support the implant posts.
Can You Get Dental Implants After Menopause?
Some studies have shown that postmenopausal women have a higher risk of dental implant failure compared to the general population. However, that doesn't automatically mean that you're disqualified from the treatment if you're currently undergoing or have already undergone menopause. You may simply need to take a few extra precautions. For instance, if your jawbone isn't currently strong enough to support implants, a bone grafting procedure might be able to sufficiently strengthen it.
Of course, the only way to find out for sure whether you're a good dental implant candidate is to talk with your dentist and/or your primary care provider. They can discuss your oral and overall health and how you can best mitigate the risk of implant failure. With their help, you can soon look forward to a complete set of replacement teeth that takes years off of your smile!
About the Author
After practicing dentistry and teaching dental school in his native Iraq, Dr. Ali Albeer moved to the United States and earned his Doctor of Dental Surgery degree from the University of Colorado Dental School. He has since completed extensive postgraduate training in a variety of areas of dentistry, including dental implant placement. At Rosemeade Dental in Carrollton, TX, he can perform start-to-finish dental implant treatment in one location for your convenience. To learn more about whether you can get dental implants after menopause, contact Dr. Albeer by calling (972) 446-1111.