All-on-4 – Carrollton, TX
Renew Your Smile in a Single Day
Dental implants replace the roots of lost teeth, but does that mean you need a dental implant for every missing tooth? Not necessarily. Thanks to All-on-4 in Carrollton, we may be able to provide you with a whole arch of new teeth with as few as four dental implants. Even better, we may be able to extract your remaining natural teeth, place your dental implants, and provide you with a temporary implant denture — all in a single appointment. If you are interested in this innovative treatment, contact Rosemeade Dental today. We look forward to serving you!
Why Choose Rosemeade Dental for All-on-4?
Top-Quality Materials
Skilled and Empathetic Team
Efficient and Effective Treatment
How Do All-on-4 Implants Work?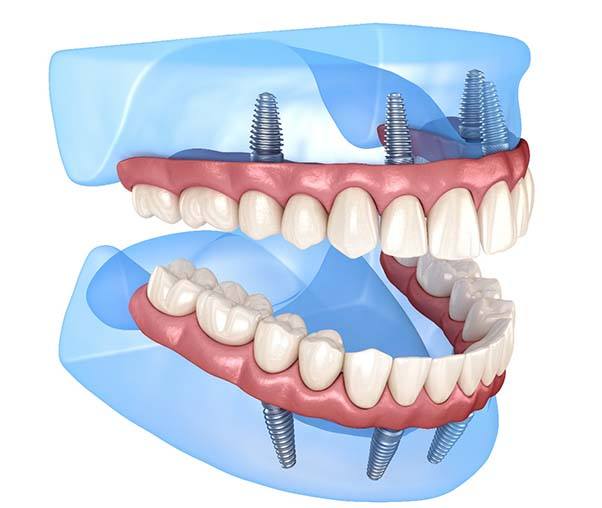 Dental implants in Carrollton are small, screw-like devices made out of a titanium alloy. We carefully insert them into the jawbone at strategic locations. Two go toward the front of the jaw, and two go toward the back of the jaw at an angle, in places where the bone is naturally strong and thick. This technique reduces the chances that a bone graft will be necessary. Once the implants are in place, we attach a temporary denture to them. Then, after a healing period of several months, you will receive your permanent new set of teeth.
Am I a Candidate for All-on-4 Implants?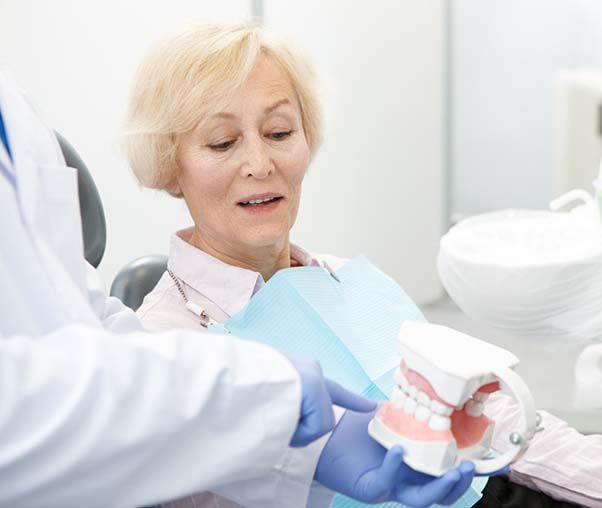 All-on-4 may be right for you if:
You have lost all or most of your teeth throughout a dental arch.
You have adequate bone density to support dental implants. (Most patients meet this criterion, even without a bone graft.)
You are free of active gum disease and other health conditions that might interfere with your implants' success.
You are determined to stick to good habits that will support your implants' long-term viability.
If you aren't sure if you are a candidate, schedule a consultation with us. Most adult patients do qualify for All-on-4, either right away or after some preparatory procedures.
What Are the Benefits of All-on-4 Implants?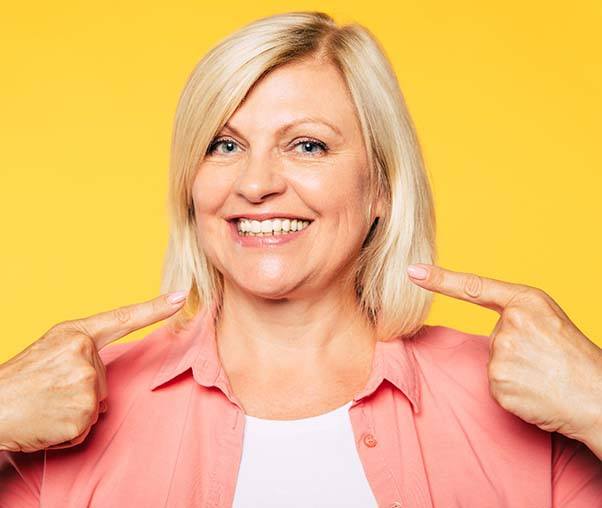 Some of the top benefits of All-on-4 include:
Stability. An All-on-4 denture provides a strong bite force that can stand up to all of your favorite foods.
Longevity. Dental implants have the potential to last a lifetime, and their restorations also have a long life expectancy.
Jawbone preservation. Dental implants stimulate the jawbone and prevent the deterioration that is a common consequence of tooth loss.
Aesthetics. All-on-4 dentures are designed to look as natural as possible.
Convenience. An All-on-4 denture is permanently attached to its implants, meaning that you can care for it in almost the same way that you would care for natural teeth.
All-on-4 vs. Traditional Dental Implants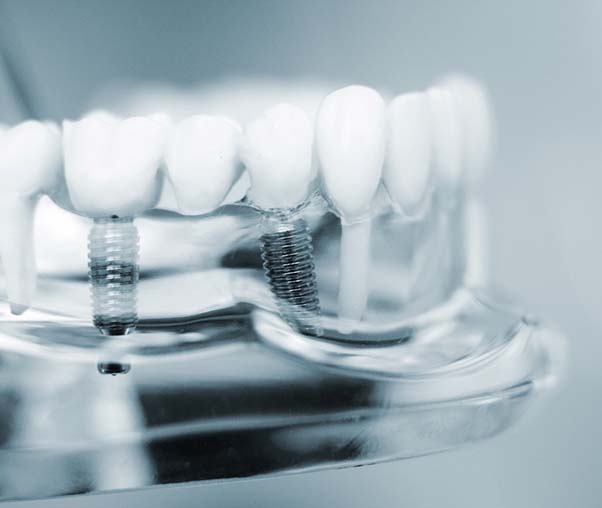 Generally speaking, All-on-4 treatment is faster and less costly than traditional dental implants. It is also less invasive and requires less downtime because it typically requires just one surgery rather than two or more. Traditional dental implants tend to be a more versatile treatment, able to replace any number of teeth as opposed to just a full arch. Traditional treatments might also have superior stability and strength, especially when six or more implants are used for full-arch replacement. Your implant dentist in Carrollton will help you compare all of your tooth replacement options before you decide how to move forward.