Teeth Whitening – Carrollton, TX
Make Tooth Stains a Thing of the Past
As much as most of us would like to have smiles that always shine brightly, teeth can become discolored over time for many reasons. A smoking habit, poor dental hygiene, consuming too many richly pigmented foods and drinks, and even the natural process of aging can leave your smile duller than you'd like it to be. Instead of wasting your time and money on store-bought teeth whiteners that barely work, invest in a quality solution here at Rosemeade Dental. Dr. Ali Albeer is proud to offer take-home and in-office solutions for teeth whitening in Carrollton, TX. To take the first step toward a bright confident smile, please reach out to our team and schedule a consultation!
Why Choose Rosemeade Dental for Teeth Whitening?
Take-Home & In-Office Teeth Whitening Available
Fellow of the Academy of General Dentistry
Warm, Welcoming Dental Office
Is Teeth Whitening Right for Me?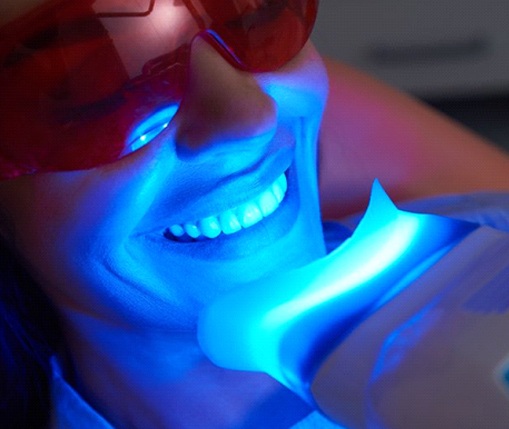 The vast majority of adults with discolored teeth make good candidates for teeth whitening. Of course, your eligibility for this treatment depends on the root cause of your stains, the state of your oral health, and the specific goals you have planned for your smile. As a highly skilled cosmetic dentist in Carrollton, Dr. Albeer will go over all of the necessary details at your consultation. From there, you can collaborate with him to create a personalized treatment plan that will give you the gorgeous grin you've been waiting for.
How Teeth Whitening Works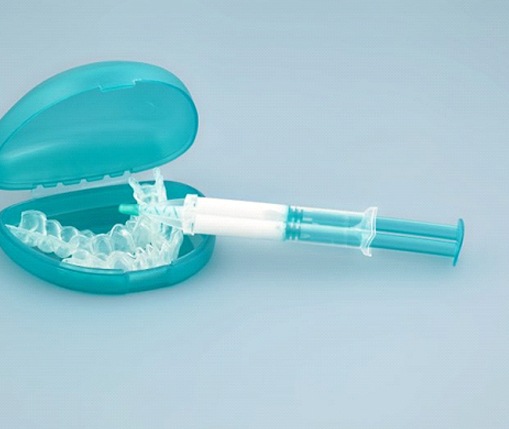 Here at Rosemeade Dental, we have two convenient treatment options designed to make tooth stains a thing of the past:
Take-Home Teeth Whitening
Are you interested in brightening your smile from the comfort of your own home? If so, then our take-home teeth whitening treatment might be perfect for you! While over-the-counter teeth whiteners rely on watered-down bleaching agents and one-size-fits-all trays, our system uses professional-grade whitening gel and customized trays designed to fit your unique mouth. Simply wear these trays with the gel for a set amount of time each day (usually about 30 minutes). While you should notice a difference after just one day, most patients achieve the results they were looking for after using the trays daily for about two weeks.
In-Office Teeth Whitening
If you have an important event coming up soon and want to lighten your teeth as quickly as possible, then you may benefit from our in-office teeth whitening treatment. When you visit our office, Dr. Albeer will apply a customized whitening gel to your teeth that deeply penetrates the enamel to remove even the most stubborn stains. This option provides the same dramatic results as two weeks of take-home whitening, but in a single appointment that rarely takes more than an hour.
Tips for Keeping Your Smile Bright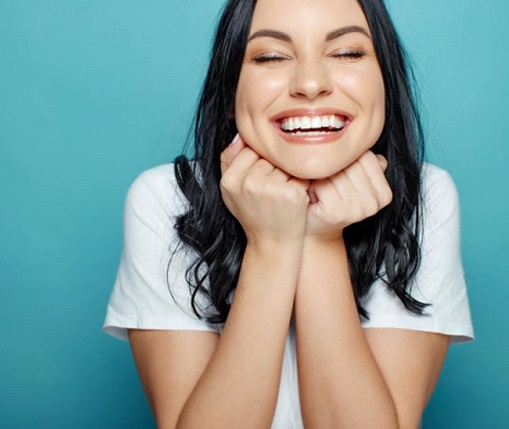 The results of professional teeth whitening are much more enduring than store-bought solutions. Depending on how well you care for your smile, your results may last from a few months to a year or more! To keep your smile bright for as long as possible, do your best to:
Maintain good oral hygiene (twice-a-day brushing and daily flossing).
Avoid or limit darkly colored foods and beverages.
Use a straw if you drink dark beverages.
Quit smoking and other forms of tobacco use.
Visit our office regularly for checkups and cleanings.
Get touch-up whitening treatments as needed.