Dental Implants – Carrollton, TX
The Modern Solution for Gaps in Your Smile
At some point in your life, you may end up with one or more missing teeth and will need to figure out the best way to fill in the empty space in your smile. As far as modern dentistry is concerned, your best bet in most cases will be dental implants. Instead of just replacing the part of the tooth that sticks out above the gums, implants allow us to replace the underlying roots as well, resulting in the strongest, most stable smile possible. Call Rosemeade Dental today to schedule a consultation to discuss dental implants with our Carrollton, TX dentist, Dr. Albeer.
Why Choose Rosemeade Dental for Dental Implants?
Offering Placement & Restoration
State-of-the-Art Dental Techniques
Quality Materials for Restorations
What is a
Dental Implant?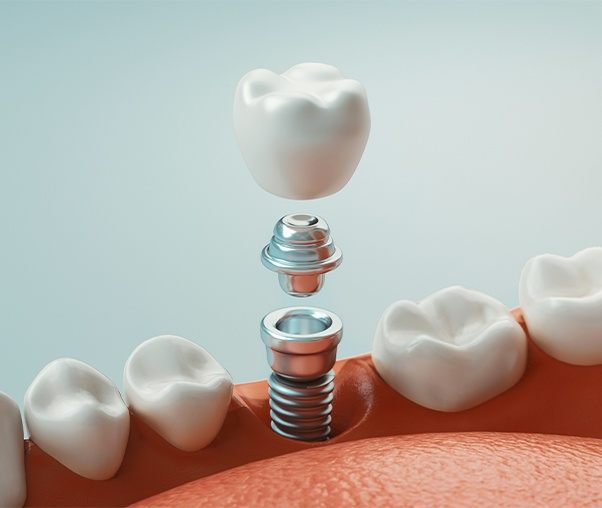 A dental implant isn't a tooth replacement by itself in the same way that a crown or bridge is. It's a thin metal post that can be surgically inserted into the jaw, where it can fuse with the bone through a process called osseointegration. Once implants are fully in place, they can support crowns, bridges, and even full dentures to fill gaps of any size in your smile. In other words, a dental implant is essentially a new root for any number of replacement teeth.
Benefits of Dental Implants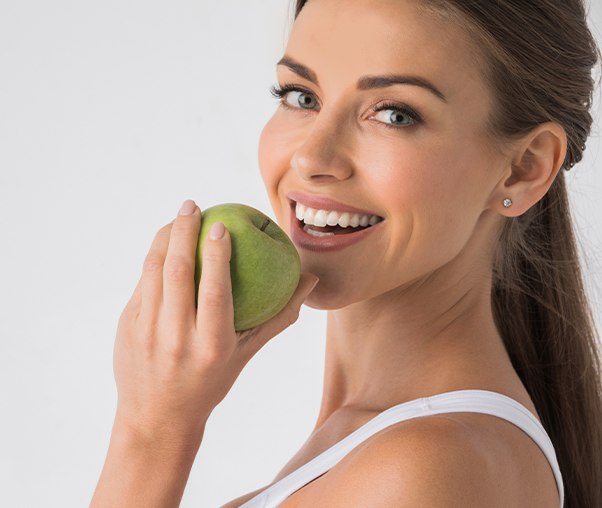 As the modern solution for gaps in your smile, dental implants offer a wide array of benefits that you simply can't get with traditional options like dentures or a dental bridge. Since they're designed to replace the entire structure of a missing tooth, dental implants look, feel, and function just like your natural pearly whites! There is a long list of reasons why dental implants are considered the gold standard of tooth replacement by both dentists and patients. Read on to learn about some of them!
Day-to-Day Benefits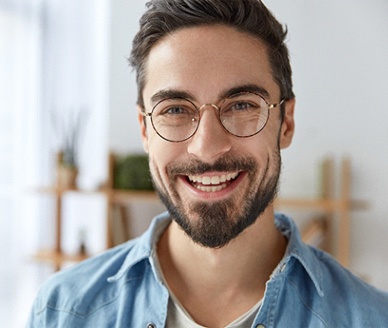 Improved Appearance: New teeth will obviously solve the issue of having noticeable gaps in your grin. The restorations for your implants will be carefully designed to blend in so well that they're indistinguishable from your natural teeth.
Improved Diet: Since your new teeth will be anchored into your jawbone, they will have chewing power that's almost on par with your natural teeth. You won't have any troubles eating any of your favorite foods.
Improved Comfort: Dental implants don't rest on your gums or alter your healthy teeth like dentures and dental bridges do. Not only does this provide your smile more stability, but it also won't cause any gum irritation or tooth sensitivity.
Improved Confidence: With their reliable and steadfast foundation in your jawbone, you'll never have to worry about your dental implants feeling loose or slipping out of place at embarrassing times. You'll be able to smile, talk, and laugh confidently once again!
Health Benefits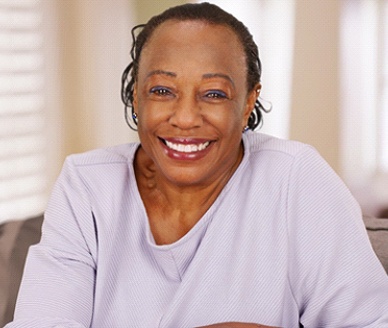 Prevent Jawbone Deterioration: Getting dental implants doesn't just fill in the empty space in your mouth. Your new teeth will fulfill the same functions as your natural teeth, which includes stimulating the jawbone so that it doesn't break down. This also helps prevent the sunken, aged appearance that typically accompanies tooth loss!
Prevent Oral Health Issues: It's easy to keep dental implants clean and healthy with regular brushing, flossing, and rinsing with mouthwash. This makes it a lot easier to maintain optimal oral health and prevent issues like gum disease and dental infections.
Prevent Future Health Problems: Dental implants encourage better oral health, which in turn promotes better systemic health. Those with healthy smiles are found to be at a lower risk of health problems like arthritis, malnutrition, and heart disease.
Long-Term Benefits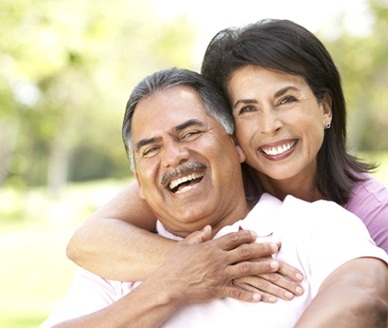 Long Lasting: Most of the time, you can expect a traditional restoration like a denture or dental bridge to last around 10 to 15 years. On the other hand, a dental implant has a much longer lifespan on average; in fact, as long as you take good care of it, you can expect to keep it for the rest of your life!
Live Longer: Completing your smile with dental implants can help you live longer. Studies show that those with 20 teeth or more at the age of 70 have a considerably higher chance of living longer than those with less than 20 teeth at that age.
Save Time & Money: Dental implants may have a higher initial cost than dentures or dental bridges, but since they may never need to be replaced, they could easily end up being the more cost-effective solution over the years.
Are Dental Implants
Right for You?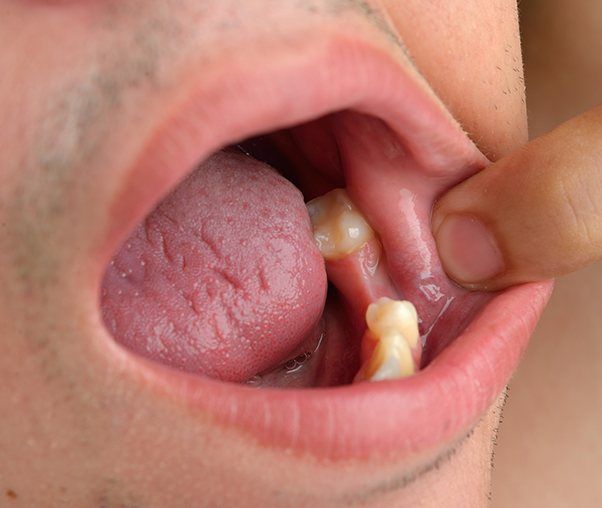 Dental implants are suitable for many different forms of tooth loss. We'll need to evaluate your mouth for signs of bone loss in the jaw and gum disease. Once these potential problems have been accounted for, we can start planning the implant procedure itself.
Missing Single Tooth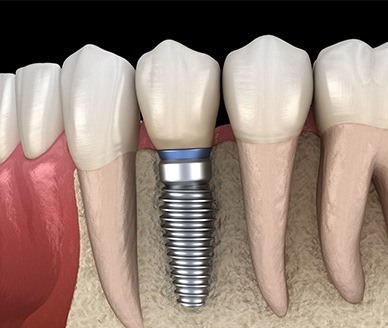 To replace a single missing tooth, we'll place a dental implant post in the gap. Once the mouth has fully healed, we can attach an abutment and, eventually, a dental crown that has been customized to match your other teeth. This way, we can replace the tooth without needing to alter your remaining teeth to support a dental bridge.
Missing Multiple Teeth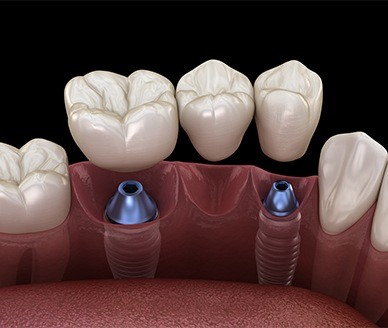 Implant bridges can be used if you're missing at least three teeth in a row. To make the crown, we'll place one or more artificial teeth between a pair of crowns. The crowns will be supported by implants and in turn will hold the other prosthetics between them to fill the gap.
Missing All Teeth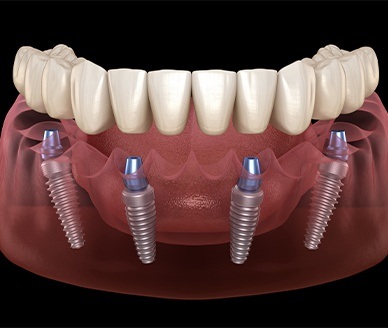 Modern dentures are more reliable than ever before, and anchoring them to dental implants can improve their performance even further while also making them easier to care for (since they can simply be brushed like real teeth). It can take anywhere from 4 to 8 implants to support dentures; rest assured that we will always aim for the most conservative number possible.
Learn More About Implant Dentures
Start to Finish Convenience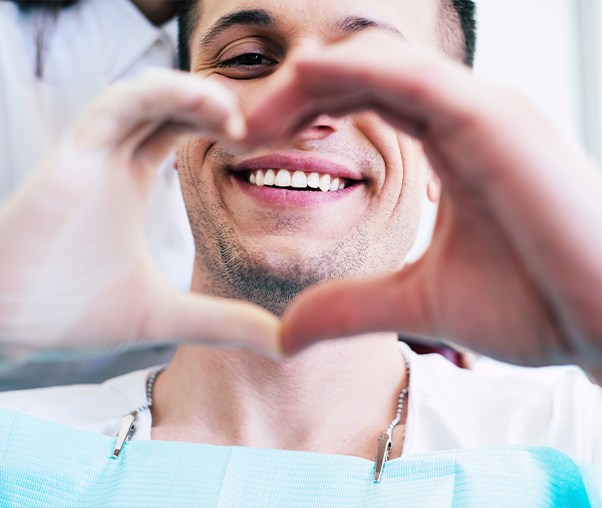 Unlike many other dental offices that claim to provide dental implants, the Rosemeade Dental team is able to complete the entire procedure in our Carrollton dental office. This means from your initial consultation to your placement surgery to when we attach your new teeth, you'll work with the same professionals that you trust the entire time. This all-inclusive approach not only makes getting dental implants more convenient, but it also helps patients save time and money because they don't have to travel between different dental offices.
How Dental
Implants Work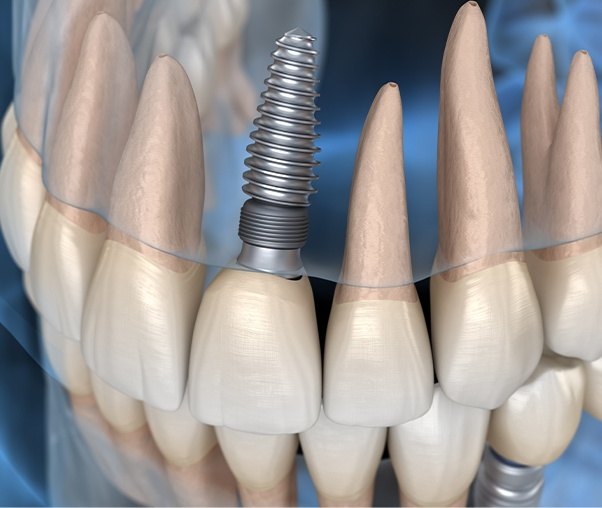 The dental implant process is divided into a number of steps. After the necessary preparations are made, the implants are placed in your mouth, and your new teeth will be placed on them at a later date once you've completely healed. Thanks to his implant expertise, Dr. Albeer can complete every phase of the implant process right here under a single roof; you'll have a dentist you already know and trust helping you every step of the way.
Understanding the Cost of Dental Implants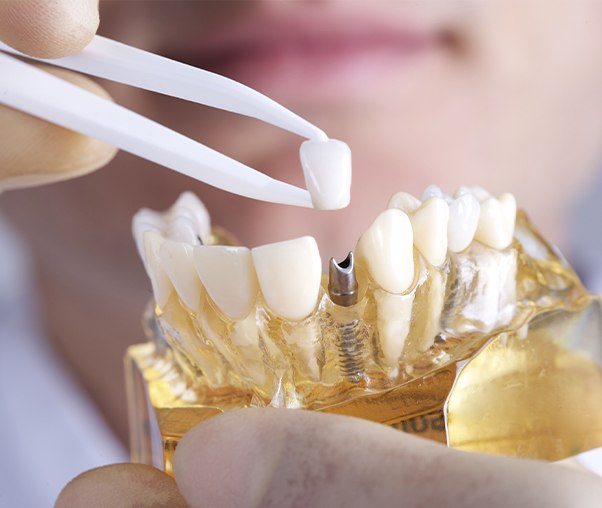 Before you get dental implants, you have to carefully consider the costs involved. We can give you an estimate once we figure out how many implants you need, the type of restoration they'll support, and what kind of preparatory steps are needed during the treatment. Remember that even though the initial cost of dental implants is usually higher than that of other restorations, their longevity combined with the various benefits they offer make them a well worthwhile investment.