Dentures – Carrollton, TX
Customized Prosthetics Designed With You in Mind
Are you suffering from tooth loss? Do you have a missing arch of teeth that no longer allows you to enjoy your favorite foods or speak without feeling embarrassed? Do you minimize your time at social gatherings or avoid the camera for memory-making moments? If so, it's time to consider how dentures in Carrollton can help you embrace a fuller, happier life. At Rosemeade Dental, Dr. Albeer and his team understand the frustration you're feeling, which is why they are happy to work with you to establish the appropriate type of treatment you need to begin enjoying a new and improved smile. To discover if you are eligible to receive dentures, contact us today to schedule an appointment with Dr. Albeer.
Why Choose Rosemeade Dental for Dentures?
All Dental Services Offered Under One Roof
Advanced Dental Technology Used in Our State-of-the-Art Facility
Dental Insurance Welcome and Financing Available
Who is a Good Candidate for Dentures?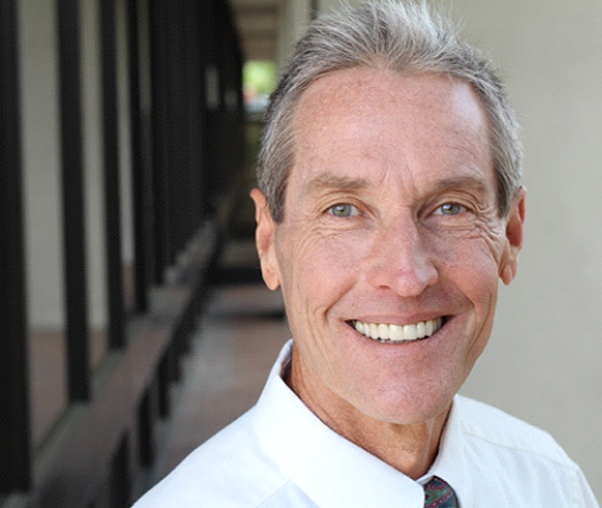 If you are missing an entire row of teeth, there is good news! After meeting with Dr. Albeer, there is a good chance you will be eligible to receive dentures. No longer will you suffer while eating or speaking. Instead, your choice to meet with a dentist in Carrollton to discuss your tooth loss will lead to a more complete and longer-lasting solution.
When meeting with Dr. Albeer, you can expect him to examine your oral cavity and make notes of the problem areas. If you do not show any signs of gum disease or problems with your overall health, he will determine if you need a full or partial denture or implant dentures. Naturally, there are other solutions you can choose from if only a few teeth are missing along an arch (i.e., dental bridge), but if all your natural teeth are gone, and you have good jawbone density and are in good general health, you can expect to receive clearance for full, customized dentures.
What Are the Different Types of Dentures?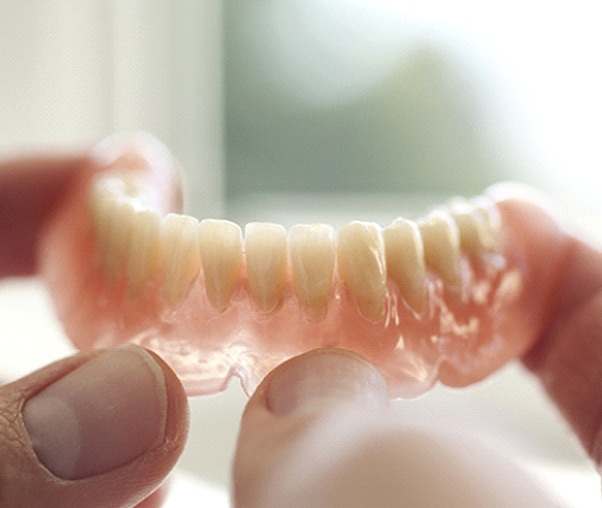 During your consultation, you will learn there are three types of dentures available:
Partial Dentures
You will find that when multiple teeth are missing along a row, it can pose additional problems for your remaining, healthy teeth. From the potential for dental drift to difficulties eating and speaking correctly, a partial denture can help eliminate these problems and produce a healthier, happier smile. Using a gum-colored, acrylic base that closely matches your natural soft oral tissues, artificial teeth are positioned along the prosthetic in the appropriate place. When ready for placement, the partial will fit like a puzzle piece and use metal clasps to attach to your natural teeth.
Full Dentures
Relying solely on your natural suction to remain firmly in place, individuals with full dentures often choose to buy dental adhesive to help add an extra layer of security. Created using the same acrylic, gum-colored base and artificial teeth, this tried-and-true prosthetic will replicate the look of your smile and allow for an improvement in your bite force that you did not have while living without teeth.
Implant Dentures
Implant dentures are vastly different than their traditional counterparts simply because they use titanium posts that are surgically placed into your jawbone to remain in place. They also mimic the full tooth structure from the root to the crown, allowing for continuous stimulation to the jawbone and minimizing the potential for facial collapse or other similar changes. Implant dentures are known to be more expensive than traditional dentures; however, they offer greater stability, functionality, and can last a lifetime with proper care.
Benefits of Dentures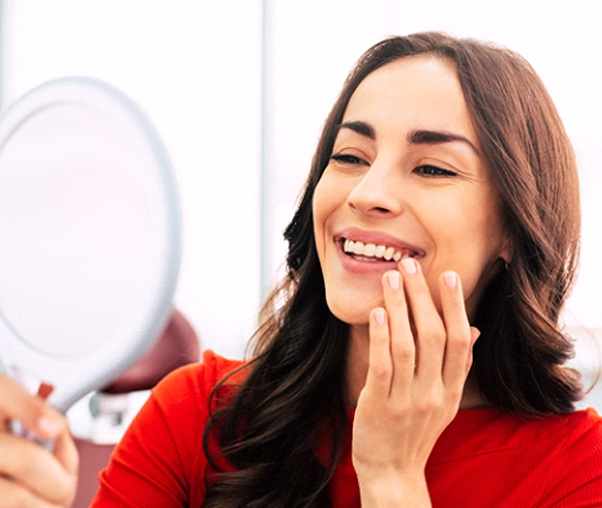 You will find that one of the greatest benefits you will achieve with the help of dentures is the ability to enjoy life to the fullest extent. Not only will you be able to eat nutritious, healthy meals with greater confidence, but you'll also speak with clarity, making it possible to talk with family, friends, and colleagues without fear of embarrassment. Not to mention, traditional dentures are typically covered by dental insurance, making them an affordable option. However, even if you choose implant dentures, you may still be eligible for coverage depending on your insurance company. You can always apply for flexible financing, however, to lower your expenses no matter which type of denture you choose.
Understanding the Cost of Dentures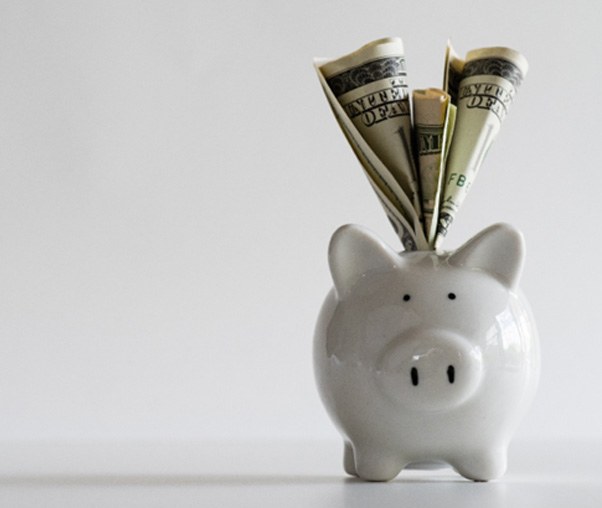 The cost of dentures will vary from patient to patient, as every case is different, and there are all sorts of factors that contribute to the cost. During your consultation, we will be able to determine exactly what you can expect to pay for your new restoration. In the meantime, here are some things to take into consideration.
Factors that Affect the Cost of Dentures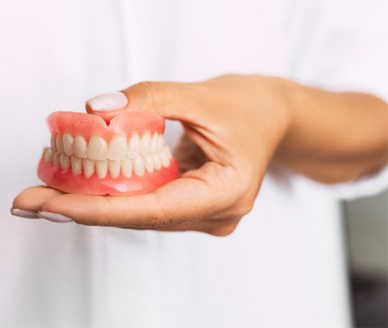 There are three main factors that will influence the cost of your dentures:
Preliminary Treatments: Any preparation required before you get your dentures will influence your overall treatment cost. This includes if you need any extractions or gum disease therapy.
Materials: The materials used for the base and replacement teeth. The base is typically made from acrylic while the replacement teeth can be crafted from either acrylic or porcelain.
Number of Missing Teeth: The more teeth you are replacing, the more it is likely to cost.
Are Implant Dentures More Expensive?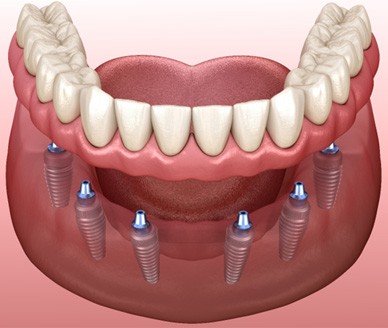 Implant dentures cost more than traditional dentures, but there is a good reason for it. Instead of being supported by the shape and suction of the gums, implant dentures are help in place by a series of dental implants that are placed in the jawbone via a surgical procedure. This allows for many additional benefits, like being more lifelike and having more stability. With implant dentures, you don't need to have your restoration replaced every 5 to 7 years either. They are made to last for several decades.
Does Dental Insurance Cover Dentures?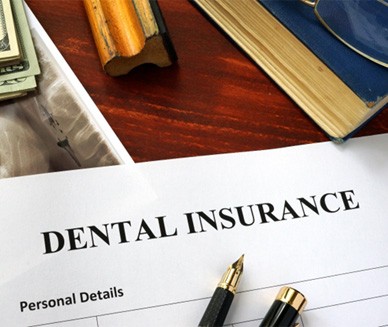 You can expect some level of coverage with most dental insurance plans. Many provide up to 50% coverage, but this will vary depending on your plan. At Rosemeade Dental, we are proud to be in-network with numerous PPO dental insurance providers. We also welcome out-of-network carriers. If you have any questions regarding your dental benefits, don't hesitate to contact us.
Other Options for Making Dentures Affordable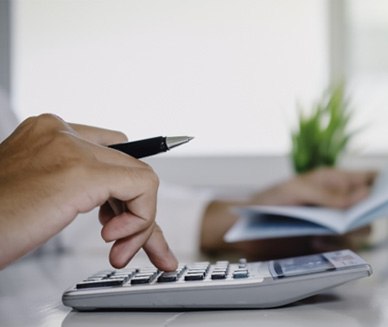 If you don't have dental insurance, this doesn't mean that you will be left completely in the dust. We work with CareCredit – a third-party financing company that can split the cost of your treatment into manageable monthly installments with little to no interest. To learn more about your financial options, you're welcome to reach out to one of our friendly team members!
The best way to determine the cost of your new dentures is by scheduling a consultation with us. We're eager to help you complete your smile!
Denture FAQs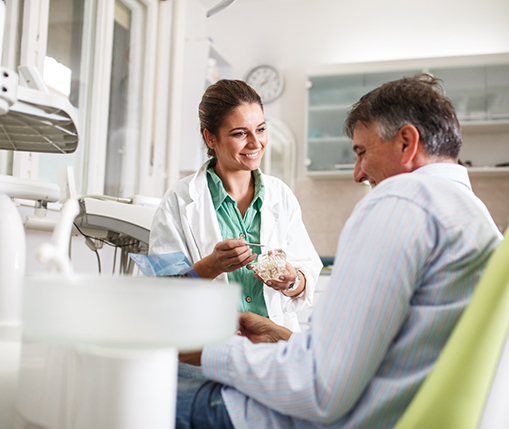 Today, there are several modern, lifelike, and durable tooth-replacement options. So, it's natural to want to know as much as possible about dentures in Carrollton before committing to them! Our knowledgeable team would be more than happy to answer any questions you have during your consultation. However, if you'd prefer to do more research before you come in, then we encourage you to read on.
Is It Hard to Talk with Dentures?
In the beginning, you'll likely experience an adjustment period. It's crucial during this time that you are patient with yourself. While the exact length of time varies from patient to patient, it's completely normal for there to be a bit of a learning curve. The best thing you can do is practice, practice, practice. At first, this might look like slowly reading out loud and repeating any difficult words you come across. As you progress, you may feel comfortable practicing with a trusted friend or family member to build your confidence and speed.
What Can't You Eat with Dentures?
If you are struggling with moderate to severe tooth loss, then it's very likely that dentures will open your diet significantly. With that said, it's important to avoid sticky, gummy, and hard foods that can tug on or chip your dentures. A few examples include popcorn, raw nuts, corn on the cob, and carrot sticks. Instead, focus on adding soft, nutrient-dense foods to your diet, such as oatmeal, yogurt, cooked vegetables, and mashed sweet potatoes.
Can I Sleep with My Dentures?
While you can sleep with your dentures in, it's not typically recommended. There are a few important reasons for this. First, the pressure from your dentures can restrict the blood flow to your gums, resulting in irritation to the soft tissue in your mouth. Luckily, preventing that from happening is as simple as removing your dentures regularly, like while you sleep.
Another reason you should remove your dentures while you sleep is so you can thoroughly clean them. After removing them, you can easily brush and floss before cleaning each surface of your dentures. As you doze, you can soak them in a glass of water to keep them fresh!
Can I Use Regular Toothpaste to Clean My Dentures?
Patients often assume they can use the same oral hygiene products for their dentures, but that's not the case. While toothpaste is recommended for your natural teeth, it's abrasive enough that it can leave microscopic scratches on your dentures. That's why patients are encouraged to instead use a soft-bristled toothbrush, a mild dishwashing liquid, and denture cleaners. Do NOT use harsh chemicals, like bleach, either.