Sedation Dentistry – Carrollton, TX
No Need
to Be Afraid
Do you feel nervous whenever you sit down in the dental chair? We understand; after all, you're hardly alone. About three-quarters of adults in the United States have some level of fear or anxiety regarding their dental appointments. As such, we recognize that some patients need a little extra to stay calm and relaxed during their visit. Call us before your appointment to ask about the options for sedation dentistry that our Carrollton, TX sedation dentist, Dr. Albeer, can use to make your appointment easier.
Why Choose Rosemeade Dental For Sedation Dentistry?
Convenient Dental Office Hours
Warm, Welcoming Dental Office
Experienced Dentist Focused on Your Comfort
Nitrous Oxide Sedation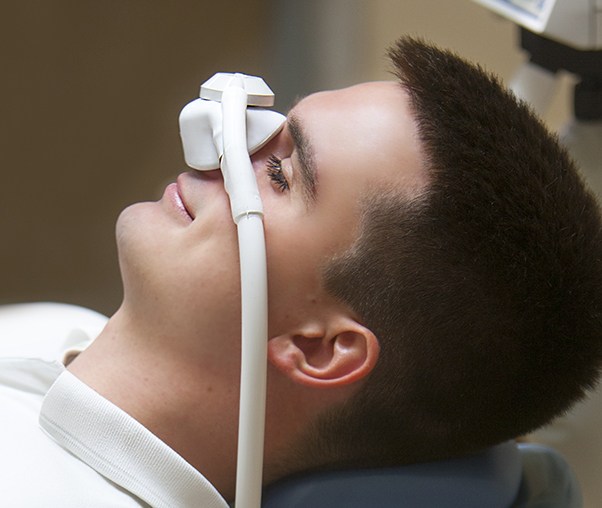 You may have heard nitrous oxide referred to as laughing gas before. While it doesn't necessarily give you the giggles, it will put you in a highly relaxed, euphoric state. You'll still be awake and able to respond to requests. You might experience light-headedness or a tingling feeling in your arms and legs. The effects will wear off quickly after the mask is removed, so there's generally no need to have someone else drive you home. It's an excellent form of dental sedation that can help you relax while we take care of your smile. Read on to learn more.
How Nitrous Oxide Sedation Works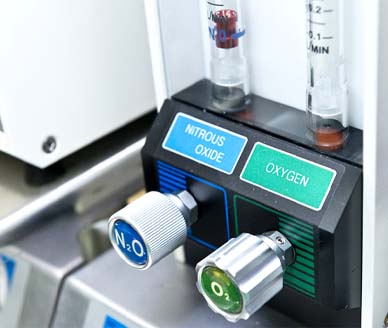 Nitrous oxide is the lightest form of dental sedation, and it's one of the most popular because of how easy it is to use. First, Dr. Albeer will see you for a consultation and ensure that nitrous oxide is a good choice for you. Depending on your unique needs and situation, nitrous oxide can be used to help you feel relaxed and comfortable throughout a wide range of dental treatments, including fillings, dental crowns, root canal therapy, and more.
Once you come in for your appointment and settle down in the examination chair, we'll place a small mask over your nose. You'll breathe in a colorless, odorless, and tasteless gas and within moments, you'll begin to feel light, relaxed, and at-ease. You may feel some slight pressure in your mouth occasionally while we work, but not pain. Additionally, you'll remain conscious throughout your treatment, but you'll be oblivious to the sights, sounds, and sensations that would perhaps otherwise make you anxious or uncomfortable. Dr. Albeer and our highly experienced team will carefully monitor you and adjust your level of sedation at any time to ensure you are as comfortable and safe as possible. Then, once your treatment is complete, we'll remove the mask and you'll return to your normal level of awareness within moments.
The Benefits of Nitrous Oxide Sedation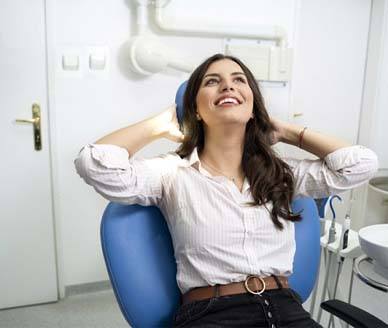 Nitrous oxide sedation continues to be a popular way to help people feel relaxed in the dental examination chair, and it's easy to see why! It offers benefits like:
No needles needed for administration
Sedation effects wear off quickly, meaning you can drive yourself home and go back to your daily activities
Can be adjusted at any time during your treatment
Reliably safe and rarely causes any side effects
Can help patients with dental anxiety and physical discomfort
Can be used for almost any type of dental treatment, depending on your situation
A great choice for adults, older adults, special needs patients, and children
Who Is a Good Candidate for Nitrous Oxide Sedation?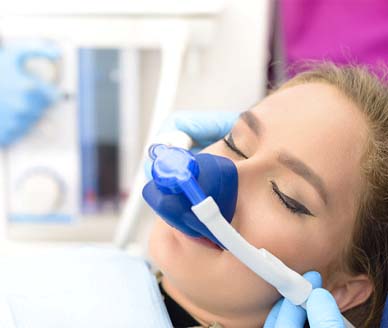 When Dr. Albeer sees you for a consultation, he'll take the time to have a thoughtful discussion with you about your concerns, questions, and circumstances. He'll also review your medical history and health to ensure that nitrous oxide sedation is a good choice for you. Nitrous oxide is typically a great choice for patients who:
Are anxious about going to the dentist
Have a physical condition that makes sitting in one place for too long uncomfortable
Have jaw, neck, or back pain
Have a sensitive gag reflex or sensitive teeth
Are undergoing a larger, longer, or more complex procedure than normal
Would be more likely to get the routine dental care they need if it were a less uncomfortable or tense time for them.
Typically, we do not recommend nitrous oxide sedation for those who are pregnant, have breathing problems or lung diseases, suffer from obstructive sleep apnea or obstructive pulmonary disease, are experiencing nasal congestion currently, or are taking certain medications.
Nitrous oxide sedation could potentially make keeping your smile happy and healthy for a lifetime much more pleasant, so don't hesitate to give us a call if you'd like to learn more!