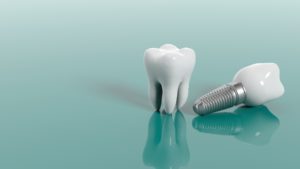 A dental implant is unlike any other tooth replacement because it replicates both the root and the crown. Not only is it the next best thing to your real tooth, but it's also the most reliable method. With over a 95% success rate, dental implant failure is rare, but it can occur in certain situations. Although no one ever expects it to happen to them, here is when removing a failed dental implant in Carrollton is necessary.
What Causes Dental Implant Failure?
A dental implant can fail shortly after it has been placed or several years down the road. Early dental implant failure is often caused by the bone not fusing with the post. Your jaw must integrate with the implant through a process called osseointegration. The implant won't be stable if proper healing doesn't occur. Generally, early failure is caused by too much movement after the implant was placed or underlying health conditions that affect the immune system.
Late-term failure most often results from a preventable infection called peri-implantitis. It's like gum disease, which destroys the supporting structures of your teeth. If caught early, some dental implants can be saved by treating the infection. In some situations, the infection can be caused by spontaneous rejection, trauma, or premature overloading.
Removing a Failed Dental Implant
If your dentist recommends removing your implant, the process isn't as complex as when it was placed. It can be as simple as unscrewing the implant from the bone if the failure occurred early. After the first year of placement, removing it can be a little trickier because the bone and implant will have integrated.
Restoring a Complete Smile
You don't have to live with the gap in your smile. If your dental implant didn't work out the first time, you can try again. Your implant dentist will resolve the issue that caused them to fail, like treating bone loss with a grafting procedure. This will strengthen the jawbone to ensure there's adequate density to support the post.
If peri-implantitis was the culprit, treating the infection and improving your oral hygiene will ensure you can have your dental implant replaced. You must be healed from any previous treatments before undergoing your placement surgery.
Promoting Dental Implant Success
The risk of dental implant failure is less than 5%, but you can lessen your risk by following a few tips:
Commit to a solid home oral hygiene routine.
Don't smoke or drink alcohol.
Visit your dentist twice a year for a cleaning and checkup.
Wear a nightguard if you grind or clench your teeth.
Don't use your teeth in place of scissors or tools.
Don't chew on inedible objects.
With the right care at home, you'll never have to worry about dental implant failure again.
About Dr. Ali Albeer
Dr. Albeer earned his dental degree from the Baghdad University Dental School and continued his education in prosthodontics. He has extensive education in complex oral health issues, like tooth loss. Contact our office today to request your consultation for dental implants.