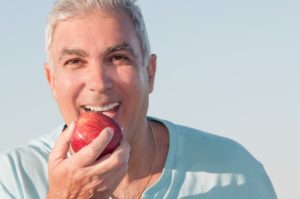 If you're ready to eliminate slipping and irritation for good, you can invest in the next best thing to your real teeth with All-On-4. You'll never have to think twice before digging into a tasty meal because dental implants will anchor your denture to your jawbone. You won't have to wait to get your new teeth because you'll receive your denture on the same day as your All-On-4 surgery in Carrollton; however, that doesn't mean you can chomp down on a hamburger right away. Although you can't wait to try out your new teeth, here's what you need to know about eating and drinking after your placement surgery.
Liquid Diet for 1-2 Weeks Post-Op
You can begin drinking water immediately after your surgery. Your dentist will recommend it because it's important to stay hydrated during All-On-4 recovery in Carrollton. Avoid any hot liquids until the effects of any anesthetic have dissipated to prevent accidental burns.
Your mouth will be sore and tender for a few days, so you won't feel like chewing, anyway. A liquid diet will keep you nourished while preventing discomfort. As your pain improves gradually, you'll still need to stick to a non-chewing diet; however, skip anything hot, spicy, or acidic.
Soft Foods for 2 Weeks – 3 Months Post-Op
Although your discomfort will go away in a couple of weeks, you can't resume your regular diet right away. Putting too much pressure on your healing jawbone can cause your dental implants to fail. As a result, you need to stick to foods that require minimal chewing, like mashed potatoes, bananas, or rice.
Besides watching what you eat, your implant dentist will instruct you to avoid carbonated or alcoholic drinks. Smoothies are a great option if you need something sweet.
Resuming Your Normal Diet
Your dentist will monitor the progression of your healing to give the go-ahead after osseointegration is complete. You can resume your usual diet, as well as some foods you may not have been able to eat with a traditional denture. You'll regain up to 70% of your natural biting force because your denture will have the support and stability of your jawbone.
Although you can eat anything you want, your dentist will recommend limiting hard or chewy foods because they'll put additional wear and tear on your new smile. If you can't resist a juicy steak, cut it into smaller pieces to make it easier to chew.
You may have to watch what you eat for a few weeks, but it's time well spent to benefit from a nearly perfect replica of your real teeth. In no time at all, you'll be savoring all of your favorite meals and dishes.
About Dr. Ali Albeer
Dr. Albeer earned his dental degree from the Baghdad University School of Dentistry and continued his education in prosthodontics. He has completed extensive training in advanced services, like dental implants. If you are ready to treat your tooth loss permanently, contact our office today to request your consultation for a complete smile.