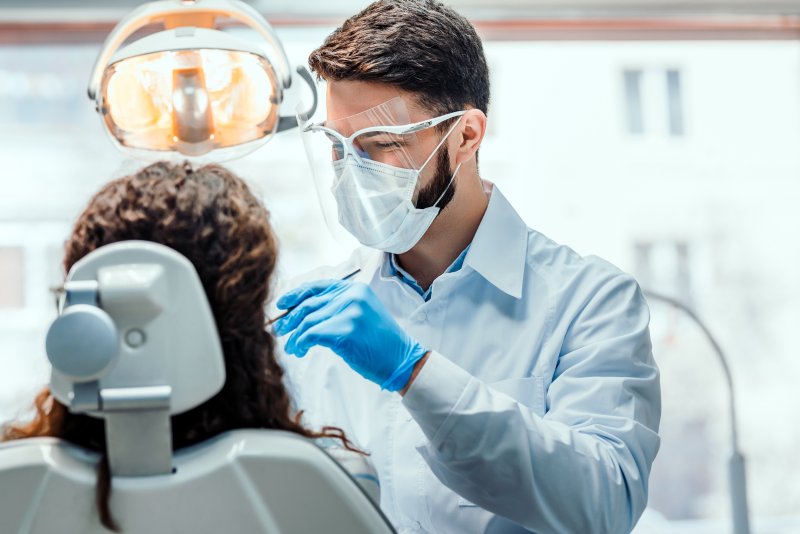 According to a study by the Centers for Disease Control and Prevention (CDC), around half of Americans over the age of 30 suffer from gum disease. Not only is it painful, but there's evidence of a correlation between it and a host of other medical problems like heart disease and diabetes. If you're searching for relief, your dentist may be able to treat it easily. However, in extreme cases, tooth removal can help alleviate the condition. Here's what you need to know about the treatment of gum disease in Carrollton.
Can Tooth Extractions Treat Gum Disease?
Gum disease (or periodontal disease) is caused by the inflammation and ultimate infection of the gums. Sometimes, the teeth in these areas can become loose or you may struggle to chew. Additionally, pockets can form between your teeth and gums. These spaces can accumulate bacteria and food particles that lead to further complications.
Removing teeth around the areas of affected tissue becomes necessary when there is too much damage. Left untreated, periodontal disease can destroy the bone that holds teeth in place. Therefore, extractions are sometimes necessary in the management of extreme gum disease.
How To Treat Gum Disease and Avoid Extractions
It's important to note that tooth extractions don't directly treat gum disease. Seeking treatment for gum disease before it becomes an advanced issue will lower your chances of requiring one.
Depending on the state of your gums, your dentist may recommend scaling and root planing, one of the most popular treatments for gum disease. This option is more conservative than extraction and can help your mouth heal before more damage occurs.
At-home oral hygiene is also essential to prevent gum disease. Make sure you regularly brush and floss and visit your dentist at least twice a year for a checkup and cleaning.
I Need an Extraction
If your dentist recommends an extraction to remove one or more of your teeth in the case of extreme damage from advanced gum disease, they will go over the procedure with you beforehand. Depending on the state of your mouth, you will require either a simple extraction (this involves teeth that have fully erupted into the mouth) or a surgical extraction. Surgical extraction removes parts of the tooth that grow into the gums.
If you suffer from gum disease, you can potentially avoid extraction. It's important to reach out to your dentist to discuss and create a plan that will restore your smile.
About the Author
Dr. Ali Albeer has a gentle approach to dental care that leaves his patients feeling comfortable and relaxed. He holds degrees from the Baghdad University Dental School as well as the University of Colorado Dental School, where he graduated 2nd in his class with the Omicron Kappa Upsilon Dental Honor Award. He is a Fellow of the Academy of General Dentistry and a member of the American Academy of Implant Dentistry and the Seattle Study Club. If you have questions about gum disease or tooth extraction, visit his website or give him a call at (972)446-1111.