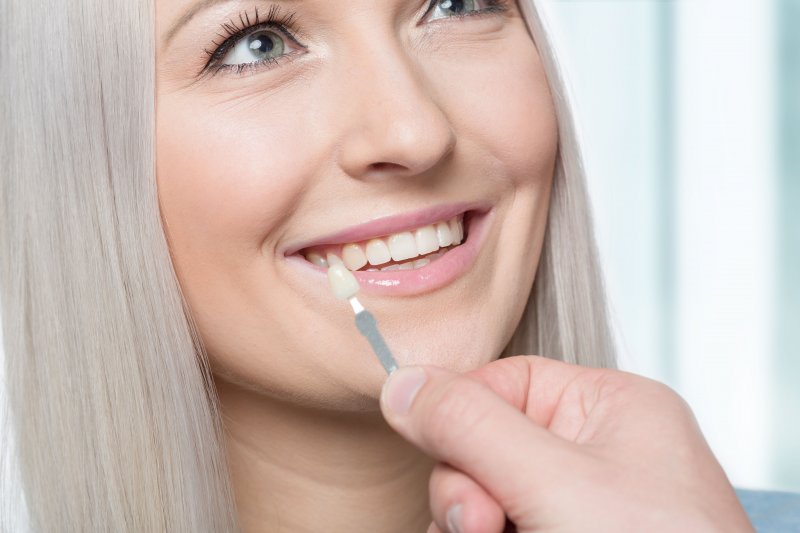 Want to know the secret behind your favorite celebrity's smile? We'll give you a hint – it has to do with cosmetic dentistry. Since not everyone is born with teeth that are red-carpet-ready, there are now many ways you can easily achieve that look. Veneers are one of the most popular cosmetic solutions because they can address multiple dental imperfections at once, transforming your smile into one that'll make you feel like a star. However, you should know that a portion of your teeth must be removed for treatment. Read on to learn how much enamel needs to be removed for veneers.
What Does the Veneer Process Look Like?
Are you interested in revamping your pearly whites with veneers? Let's break down the five major steps involved in the veneer process:
Consultation – The first step on your journey towards a movie-star smile is a consultation with your dentist in Carrollton. At your appointment, they'll conduct an oral examination, ask about your goals, and review your medical and oral health history. They'll create a treatment plan tailored to your unique case using their findings.
Trial Run – Your dentist will preview your new smile by placing temporary veneers on your teeth or a life-sized model of your smile.
Teeth Preparation – Once you've agreed to a plan, your teeth will be prepared for veneer placement. Your dentist will remove a thin layer of enamel and polish the teeth.
Laboratory Creation – Impressions of your prepared teeth will be made and sent to the dental laboratory for the creation of your permanent veneers. In the meantime, you'll protect your prepared teeth with temporary ones.
Final Placement – After your permanent veneers are created, you'll return to the office, and your dentist will bond them to your teeth.
How Much Enamel Must Be Removed?
Contrary to popular belief, dentists do not need to remove a large portion of the tooth structure for veneers. In fact, they'll preserve as much natural enamel as possible because it'll allow the veneer to hold better. During your consultation, you'll receive an oral examination to determine how much enamel will need to be shaved away.
The exact amount depends on the shape of your teeth, their alignment, and the number of problems present (i.e., chipping, discoloration, gaps). Generally, dentists only need to shave about 0.5mm off for the veneer – sometimes even less than that! But once removed, the enamel on your teeth will never grow back. That's what makes the veneer process irreversible and why patients must be confident in their decision to move forward with treatment before fully committing.
Ultimately, you'll need to consult with a dental professional to know how much of your enamel will need to be removed for veneers. They'll be more than happy to address your concerns and help you decide whether or not this cosmetic solution is right for you!
About the Practice
At Rosemeade Dental, we provide exceptional, personalized, high-quality dental services for patients of all ages. Our team uses the latest technologies and materials to ensure everyone receives the best treatment possible. If you're unhappy with your smile, we offer veneers to transform your grin into one you'll proudly show off. To schedule a consultation, visit our website or call (972) 499-6835.