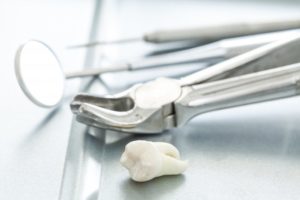 Under ideal circumstances, you would be able to keep your natural teeth for your entire life. For some people, however, that simply isn't possible. If your dentist recommends that you undergo a tooth extraction, rest assured that it is necessary for your oral health. Still, you might be a bit nervous about the treatment and what to expect during it. Below, you will find a basic overview of how tooth extractions work and what you might feel before, during, and after your procedure.
Numbing and Sedation
Your dentist wants you to be comfortable, so one of the first things their team will do during your appointment is numb your tooth. You might feel a pinching sensation as the anesthetic is injected. This can be a bit uncomfortable, but it is not severely painful. Depending on your circumstances, you might also be sedated. Sedation is usually recommended for patients with a degree of dental anxiety or those who must undergo lengthy or complex procedures.
Removing the Tooth
After you are comfortable, the extraction begins. There are two basic types of tooth extractions:
During a simple extraction, your dentist grips the tooth with forceps and rocks it back and forth, breaking the ligaments that keep it in place. Although you won't experience any pain, you might notice a tugging sensation.
During a surgical extraction, your dentist may have to make incisions in your gums or break your tooth into pieces. Just like a simple extraction, you shouldn't feel any pain, but tugging and pulling sensations are normal.
After the Tooth Is Out
Once the tooth is out of its socket, your dentist may clean the area to remove any lingering tooth or bone fragments in the treatment area. If you had a surgical extraction, you might need sutures to close the incision in your gums. You may be asked to hold some gauze in your mouth to control any bleeding. Your local anesthesia should still be in effect for a while after your tooth is removed, so you should not feel any pain during this portion of your appointment.
Recovery
Your dentist will provide you with instructions to help you deal with any soreness, swelling, or discomfort that you may experience while your mouth heals. For example, you might need to take pain relievers, avoid certain foods, and use a cold compress to minimize swelling. Most patients are feeling back to normal within a few days to a week. If you have any questions or concerns during your recovery, be sure to give your dentist a call.
It's understandable if you are nervous about your upcoming tooth extraction — but there is nothing to worry about! Your dentist will do everything they can to promote your comfort during each stage of your treatment
Meet the Dentist
Dr. Ali Albeer of Rosemeade Dental is an experienced dentist who has established a reputation for providing gentle, personalized care. He offers both simple and surgical tooth extractions, and he is able to provide nitrous oxide sedation for nervous patients. To learn more about Dr. Albeer and how he may be able to serve you, contact our office at 972-499-6835.