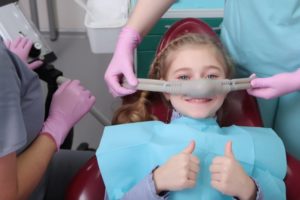 Does your little one dislike going to the dentist? Whether they suffer from a previous bad dental experience, fear of the dentist, or sitting in the examination chair is just uncomfortable for them, it can make keeping those little pearly whites healthy a challenge. Thankfully, nitrous oxide sedation for kids in Carrollton could be exactly what you and your little one need to make going to the dentist a better time! Naturally, you want the safest options for your child, so read on as we cover how nitrous oxide sedation works and how safe it is for children.
How Does Nitrous Oxide Sedation Work?
Of all the forms of sedation dentistry available today, nitrous oxide sedation is the lightest and one of the most widely used for smiles of all ages. To administer it, a small mask is placed over the nose, allowing the patient to breathe in the colorless, odorless, and tasteless gas. The effects of nitrous oxide sedation come on very quickly, so within moments, the patient will begin to feel light, warm, and completely at-ease. Some children and patients feel so relaxed that they begin to giggle a bit, hence the popular nickname "laughing gas!"
The mask administers the nitrous oxide throughout the treatment. The patient remains conscious the entire time, though they may feel so relaxed that they fall asleep on their own. While under the effects of nitrous oxide, of the sights, sounds, or sensations that would normally make the patient physically or emotionally uncomfortable are dulled. The dentist and their team will monitor the patient's safety and comfort throughout, making any adjustments to the level of sedation as needed. Then, when the treatment is complete, the mask is removed and the effects wear off completely within just a few moments.
Is Nitrous Oxide Sedation Safe for Kids?
Nitrous oxide has been used for decades to help relieve anxiety and discomfort in patients visiting the dentist, and the process has continued to be fine-tuned along the way. Numerous studies have found that when administered by a trained Carrollton children's dentist, nitrous oxide is a reliably safe option for children. The research indicates that potential side-effects include mild dizziness and nausea, and no long-term side effects have been found. Plus, the level of sedation can be adjusted right away at any point during treatment should the need arise.
Benefits of Choosing Nitrous Oxide Sedation
Not only is nitrous oxide safe for your child, but it can be highly effective in boosting their confidence, long-term health, and more. Some of the benefits of choosing nitrous oxide for your child include:
No pills or needles needed
The side effects wear off right away, so your child can go back to school, practice, or finish up their homework after their appointment
More dental work can be completed during a single appointment
Positive experiences through nitrous oxide sedation can help combat dental fear and make them less afraid of going to the dentist
Gradually removing dental anxiety with the help of nitrous oxide will encourage your child to keep better care of their smile for the rest of their lives
Nitrous oxide is safe, effective, and potentially life-changing! If you're interested in this type of sedation dentistry for your child, reach out to your Carrollton dentist today!
About the Practice
Rosemeade Dental is committed to providing personalized, high-quality dental care for smiles of all ages in Carrollton and the surrounding communities. As a father himself, Dr. Ali Albeer understands what it's like to want the safest option for your child, which is why he's proud to offer reliable sedation options like nitrous oxide. He would be happy to meet with you and your child to discuss your concerns, answer your questions, and help you discover if nitrous oxide sedation is right for your child. He can be contacted online or at (972) 499-6835.