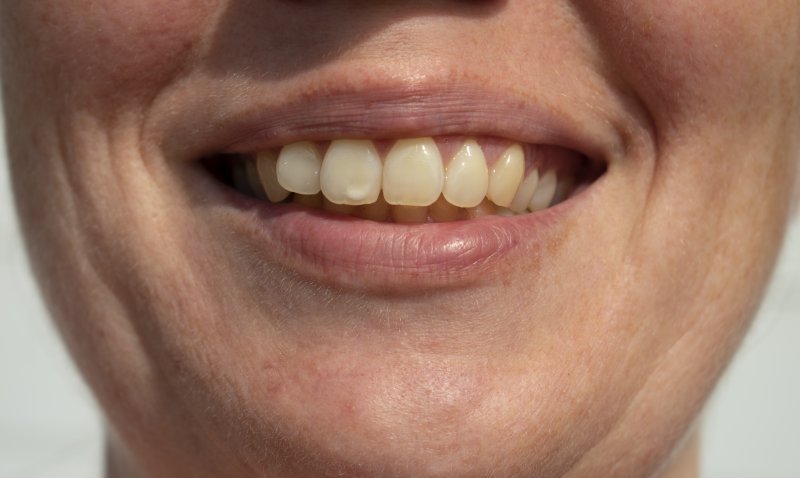 Tooth discoloration can make people feel self-conscious every time they speak, eat, and smile. Although stains on teeth can be embarrassing, they're completely normal occurrences that happen for several reasons. Luckily, there are several ways your cosmetic dentist can eliminate them and give you a bright grin once again! Continue reading as we discuss the different types of tooth stains, their causes, and how your cosmetic dentist can get rid of them.
What Are the Different Types of Tooth Stains?
Let's take a closer look at each type of tooth stain and its causes:
Extrinsic
Extrinsic stains affect the outermost layer of a tooth, or the enamel. They develop when staining particles build up in the film of protein that covers the enamel. Extrinsic discoloration is the type most people are familiar with, often appearing yellow or brown in color. The most common causes are foods (chocolate, red sauces, berries), drinks (coffee, tea, red wine, soda), and tobacco use.
Intrinsic
Intrinsic stains develop on the inner layer of the tooth, or the dentin. Since this layer is beneath the enamel, darkened dentin can result in a discolored smile. These stains are more permanent and won't respond to teeth whitening treatment the same way extrinsic will. The most common causes of intrinsic stains are trauma or injury to the tooth, medical conditions, excessive fluoride use as a child, and genetics or family history.
Age-Related
Like hair and nails, the aging process can also cause our enamel to thin. The thinner it becomes, the more exposed the dentin is, resulting in a yellowed smile. Unfortunately, age-related discoloration is unavoidable even if you take excellent care of your pearly whites. These stains combine the results of both intrinsic and extrinsic factors.
How Can You Get Rid of Them?
Are you unhappy with the stains on your teeth? Your cosmetic dentist can eliminate them with the following services:
Porcelain Veneers – These thin shells of porcelain are bonded to the front surfaces of teeth, correcting several flaws at once. If you have severe discoloration, veneers can hide them under a dazzling new appearance!
Cosmetic Dental Bonding – This is an excellent solution for patients with minor staining and discoloration. Your dentist will apply a composite resin to the flawed tooth and mold it to perfection, restoring a bright smile.
In-Office Teeth Whitening – If you want to whiten your teeth as quickly as possible, in-office teeth whitening can help you achieve your desired result in no time. You can have a dramatically brighter smile in as little as one hour!
Take-Home Teeth Whitening – Would you rather brighten your grin from the comfort of your home? Your cosmetic dentist offers take-home whitening treatment so you can achieve stunning results at your convenience.
Don't let tooth stains prevent you from flashing that beautiful smile. With the help of your cosmetic dentist, you can have a grin you'll confidently show off!
About the Practice
At Rosemeade Dental, we deliver exceptional dental care that patients of all ages can enjoy. Our goal is to give every patient a smile that can comfortably and confidently show off for years to come. If you have tooth stains, our cosmetic dentist can eliminate them with one of our services. Visit our website or call (972) 499-6835 to schedule a consultation.