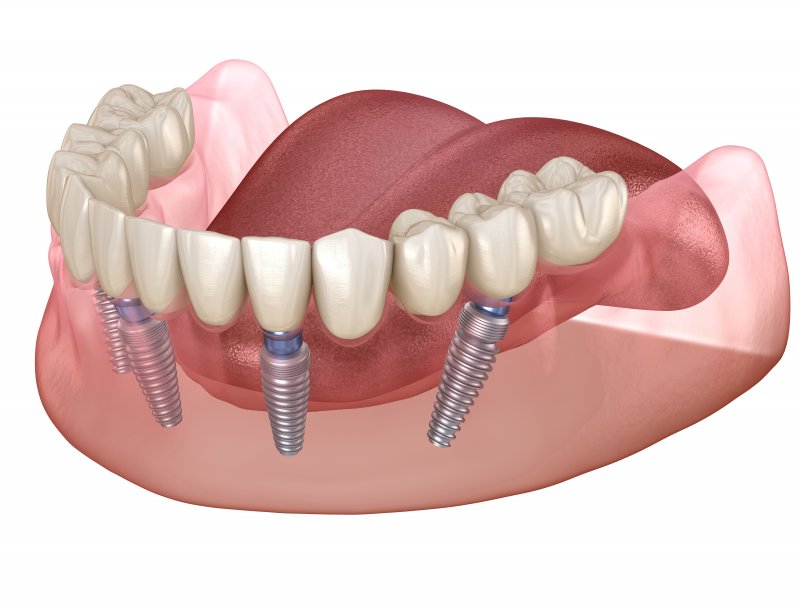 If you're tired of the inconveniences that your traditional prosthetics cause, you're not alone. Many denture-wearers grow tired of the timely upkeep and accidental slippage that can occur while eating and speaking to others. As a result, they may choose to avoid social situations or simply forgo wearing a prosthetic at all. To keep from feeling embarrassed by your smile, here are 4 reasons you should consider making the switch to implant dentures in Carrollton.
Greater Stability
Unlike traditional dentures that only sit on your gums and use your natural suction to stay in place, implant dentures use titanium posts that are surgically placed into your jawbone. This method of treatment makes it possible to create a solid foundation for your future smile, giving you greater stability and allowing you to worry less about your new teeth slipping or falling out while enjoying your favorite meal.
Jawbone Stimulation
One of the biggest problems of tooth loss is the lack of stimulation to the bone because there is no longer a structure and root. Dentures only replicate the look of a complete smile but offer no great benefits when it comes to your jawbone health. With implant dentures, the titanium posts mimic the roots of your teeth, causing them to stimulate the bone when chewing or biting down. This action keeps this area of your facial structure strong, preventing facial collapse over time.
Improved Overall Health
Implant dentures not only improve the aesthetics of your smile but also help you avoid many of the most common systemic issues. Osteoporosis, heart disease, and even diabetes are known to occur in patients who experience extensive tooth loss. This can become quite costly over time when it comes to treating these diseases and attempting to improve your quality of life. Fortunately, implant dentures replace your missing teeth, making it possible to avoid jawbone deterioration that typically causes additional tooth loss, which can then lead to worsening overall health conditions. Not to mention, because of their easy maintenance, you're likely to practice better oral hygiene, which will lower your risk of periodontal disease.
Long-Term Money Saver
Traditional dentures might be more cost-effective up front, but if you consider the money you'll spend on denture adhesives, special cleaning supplies, and regular adjustments and replacements, implant dentures are actually much cheaper. With dental implants, you don't need any additional equipment or products to keep them clean or hold them in place. You also don't need to worry about seeing your dentist every few years for new teeth. As long as you take proper care of your smile, you can expect your implants to last 30 years or more.
Does combining dentures with dental implants make sense? Absolutely. If you want a permanent and longer-lasting smile, you cannot go wrong in choosing this superior tooth replacement solution.
About the Author
Dr. Ali Albeer is a trusted dentist in Carrollton who is pleased to provide patients suffering from tooth loss with beautifully crafted, durable implant dentures. Providing individuals with a chance to embrace a better quality of life, Dr. Albeer has spent 23 years practicing dentistry and is currently a Fellow of the Academy of General Dentistry. If you are looking to take back control of your smile with what is considered to be the gold standard of customized prosthetics, visit our website or call (972) 446-1111 to find out how we can help.