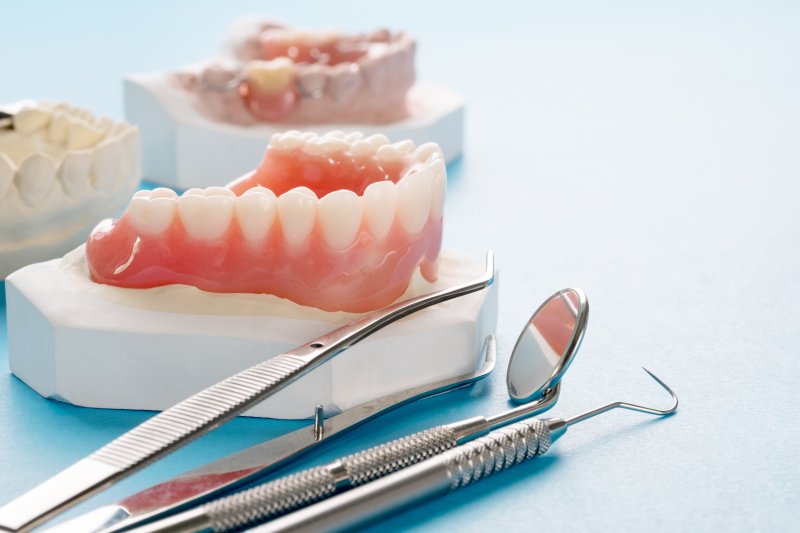 Dentures in Carrollton have been around for centuries. While the materials used to create these prosthetics have drastically changed over the years, their ability to replicate an individual's smile has proven successful over and over again. But how can you know when it's time to have them replaced? After all, they're not designed to last forever. Fortunately, a dentist is here to share 4 ways you can tell it's time for a new prosthetic that will offer a more comfortable fit.
You Begin to Notice Greater Irritation to Your Gums
When dentures fit correctly, your mouth should feel no discomfort whatsoever. However, if you notice that your gums feel more tender or pain is occurring each time you try to bite down or chew, it is likely that your prosthetics no longer fit as they should. This can be the result of your changing facial shape because of a deteriorating jawbone. The good news is that to avoid oral sores or lesions, your dentist in Carrollton can reline or replace your dentures, allowing you to move forward with a more comfortable and enjoyable smile.
Your Ability to Speak Clearly Becomes Difficult
In the beginning, it is natural to develop a slight lisp when attempting to adjust to your new dentures, but this should only be temporary and last a short time. As you spend more time wearing your prosthetics, your speech will return to normal, allowing you to speak more clearly. When you begin to notice that your dentures feel loose, it can cause you to begin slurring your words. This is when you'll need to contact your dentist to inquire about a replacement set of dentures.
The Base of Your Denture Becomes Broken
The gum-colored, acrylic material that makes up the base of your denture is an important component of your prosthetic. Sitting comfortably on top of your gums, it holds your artificial teeth in place and allows for a more balanced smile, but should it accidentally break or become damaged in another way, the only solution is to have it replaced because it is no longer useful. You do not want to continue wearing a broken denture, as it can further harm your gum tissue.
Your Dentures Are Falling Out
Dentures that fit well and function normally will pose no issues when it comes to consuming food or conversing with family, friends, or colleagues. But if your dentures become loose, they will no longer fit correctly and may fall out or slip when attempting to eat or speak. This can cause embarrassment if you do not use dental adhesive as an added layer of protection. When this occurs, it is best to get in to see your dentist right away to find out if they need to be adjusted or replaced altogether.
Dentures are a great choice for tooth replacement, but they're not designed to last a lifetime. Knowing how to tell when it's time to replace your prosthetics will help you to ensure you keep a healthy, beautiful smile over the years.
About the Author
Dr. Ali Albeer is a trusted dentist in Carrollton who is pleased to provide patients suffering from tooth loss with beautifully crafted, durable dentures. Providing individuals with a chance to embrace a better quality of life, Dr. Albeer has spent 23 years practicing dentistry and is currently a Fellow of the Academy of General Dentistry. If you are looking to take back control of your smile with the help of customized prosthetics, visit our website or call (972) 446-1111 to find out how we can help.